Bonair Reef
Bonair Reef
The blog for the commissioned piece, Bonair Reef for Ryan Zapisocki.
Check back here for informal updates. Anytime I require your input you will be notified right away. This is just for fun.
Feel free to leave comments, I'll be monitoring this page which is made just for you! There are no passwords/limitations so you can share it or not share it, based on your personal preferences.
Photos Used - thanks to Zap for his photos!
Rough Design Sketch - establishing basic form.
Basic colour sketch with pencil crayons.
From here, two basic studies were identified. One which followed the photo, the other which incorporated several other items found in the reference photos.
Study 1 - based on the photo
Things to note about the study
It is painted on a small 8 x 10 canvas which does not have the same dimensions as the actual canvas we will be using.
It is used to determine colour and basic features, not for fine detail
I plan on adding more fish taken from the reference photos
Some colours aren't exact.
Key differences between the two studies
Study 2 - you can see the surface and there is more light streaming down
Study 2 - there are tall columns in the difference
Study 1 - a lot darker
Study 1 - open left side, Study 2 has a ship
Things I'd like to improve on for the final painting
Add more height to the coral in the foreground, more rocks
Add brain coral somewhere
Make the fan coral look more fan-like
more fish
The Burnt Sienna background helps the blues be a bit more vibrant. I'll continue working on the background again today, adding some more depth and all that fun stuff!
Update: February 25, 2016
Still working on the coral beds on the right side, but after a few more hours they will be complete. Then I will move on to adding in the ship on the left hand side. With notes from Zap, I'll be seeing if I can find better photos to add a bit more detail into the ship.
Update: March 4th, this set of photos is from my previous session. I finished the coral on the right hand side and moved onto the central ridge of coral.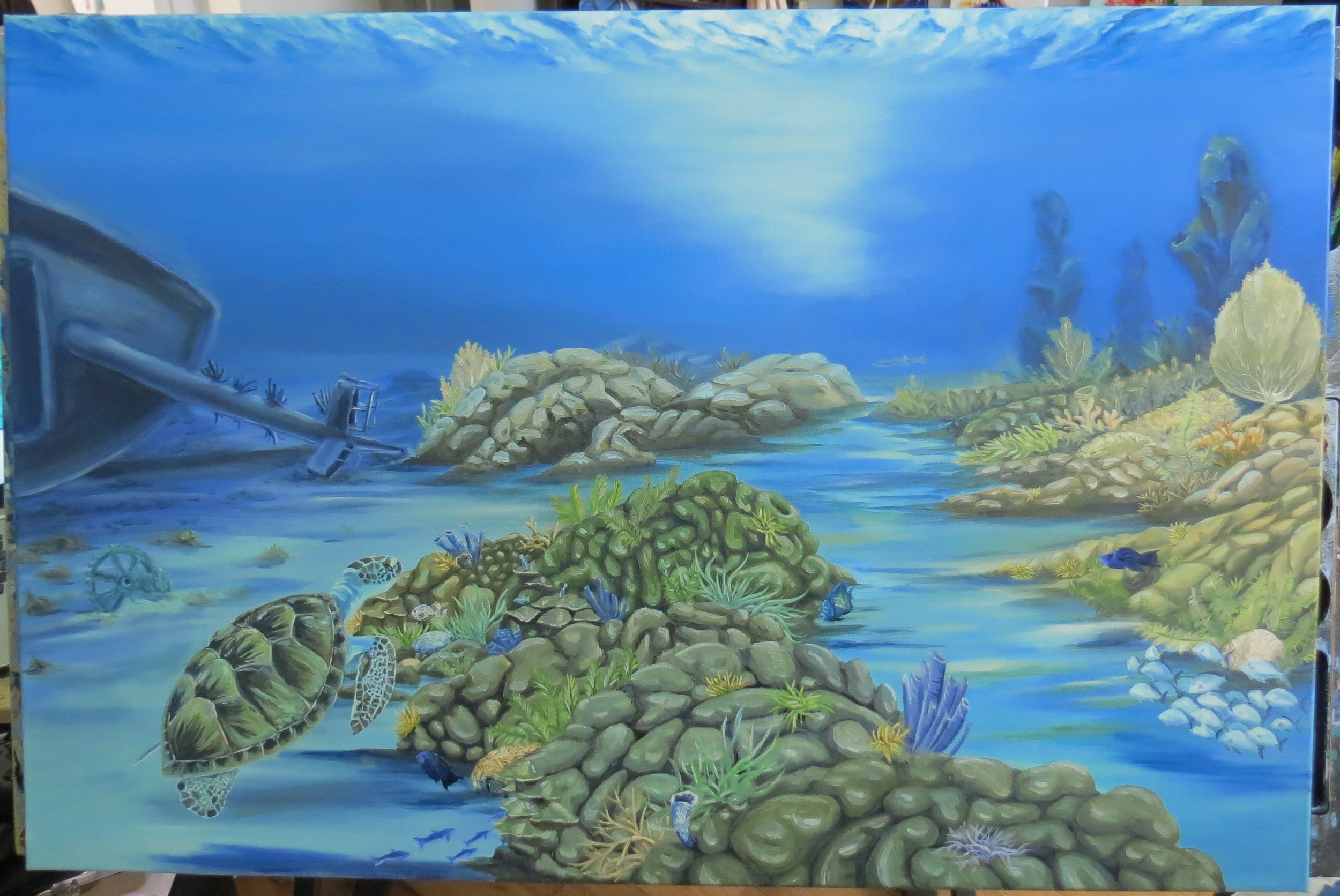 Currently Working on: Letting this dry so that I can add the final glazes which will add some depth, a bit of shine and some protective qualities. Before I do this, is there anything you would like me to add/change?